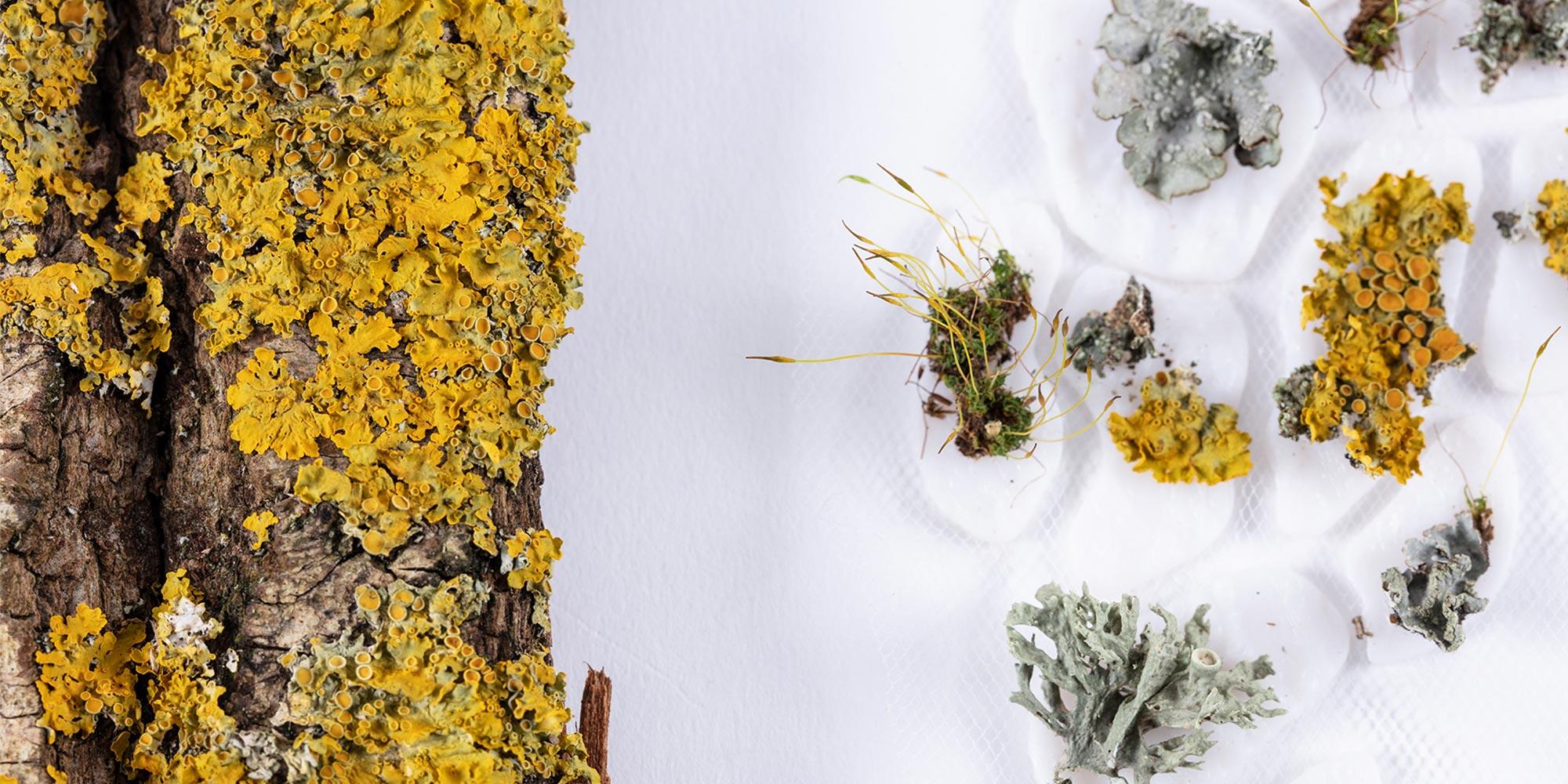 How to establish environmental commons
Earlier this year, we noticed that a remarkable amount of works of S+T+ARTS Prize nominees and winners revolved around the narrative of environmental commons beyond the dominant visible spectrum. These works invite a wide spectrum of ideas, provocations and questions around our relationship to ecology. However, we still need a larger effort for building a symbiotic relationship between urban and natural ecological space with. Therefore, the question is how do we socially and technologically design in response to this concern?
In order to encourage collective thinking around this question, Waag Futurelab invited artists of four S+T+ARTS Prize nominees and honorary mentioned works at Dutch Design Week in Eindhoven, together with Godelieve Spaas (Professor New Economy at the Avans University of Applied Sciences Breda). Take a look at the inspiring works of art and learnings from the S+T+ARTS Talk for environmental commons.
Artists and their works
On behalf of Waag, Lucas Evers welcomed the attendees, artists and professor Spaas at Baltan Laboratories on Wednesday the 28th of October. The latter was invited to share her expertise and perspective during the panel talk. But first, the artists presented themselves and their works.
No species is an island
Yuning Chan (CN), a bio-designer from the University of Edinburgh, presented Project Habitate (S+T+ARTS Prize Honorary Mention 2021), which she developed together with Yishan Qin (CN) and Tom Hartley (GB). Project Habitate is a living wearable for humans to become the hosts for endangered organisms such as lichen, fungi and moss.


The environmental challenge that Project Habitate addresses, is that of ash dieback. This disease eradicates the majority of ash trees in Europe. Fortunately, the ash won't be gone forever, but the new population will take decades to grow. In the intervening years, hundreds of species of moss, lichen, and fungi that depend on the ash are losing their habitat and risk secondary extinction.

In the meantime, could humans be the temporary hosts for these endangered species? With this poetic question and more-than-human perspective, the artistic researchers created the speculative work Project Habitate. The wearables provides a temporary home for these tiny species and allows us to play an active role in maintaining. In an era of social distancing, Project Habitate reminds us that no species is an island.
The hunt for water monsters
How do the oceans experience our impact? It's a big question that is at the same hard to answer, since most water pollutants are invisible to the naked eye. It's like a "hunt for invisible water monsters", to describe it in the words of the artistic researchers Robertina Šebjanič (SI) and Gjino Šutić (HR).
This hunt might be the driving force behind this duo's work, whose project aqua_forensic: Underwater Interception of Biotweaking in Aquatocene was nominated for the S+T+ARTS Prize 2021. The environmental challenge that aqua_forensic addresses, is the impact of our drug use on water habitats. Of all the drugs we take (mostly mood controllers, antibiotics, painkillers and hormone pills), 20% stays in our bodies, while 80% finds its way back to the waters through the sewers. These loops return to us, through food, atmosphere and rain.
After conducting a research of water ecosystems, the aqua_forensic outcomes took the forms of an installation, workshop and public discussion. The intention is manyfold: first, to make the monsters visible. Second, to open the discussion about our solidarity and empathy with waters beyond human perception. Third, to inspire people to take small steps, for example of using other kinds of soaps that don't harm the waters. And last, to co-create new narratives on the relation between humans, water and its creatures.

None of the water problems stand on their own, so that's why solutions need to be holistically approached and co-created. In this case, it is through art-driven innovation together with citizens, water management organizations, municipalities, and with the chemical industry who has an urgent task to develop drugs without side effects for people or nature. 
Harvest your own bio-gas and drive
Closer to home, designer Gijs Schalkx (NL) created UITSLOOT, a S+T+ARTS Prize honorary mentioned project that is less scientific and more performative. A likable project that makes the environmental challenge of reducing CO2 accessible for laymen thanks to its straightforwardness.
The story goes as following: Gijs is a young man who wants to ride his moped. How can he do so without using gasoline that supports oil companies and without harming the environment? First, he needs to understand how his motor works, so he takes it apart and examines how it works. Then, he starts experimenting by collecting greenhouse gases that are stored in our ditches. The harvesting of biogas also has a performative aspect. Schalkx works in ditches and ponds of public places like parks, so people can come up to him to start a conversation on his project.
And thus, Gijs Schalkx became his own energy company and 'the inventor of the greenest energy there is.' It took him eight hours of harvesting biogases to ride twenty kilometers on his converted moped, which were 'the best twenty kilometers I've rode in my life', according to the designer. 'The best part is that you become aware of the consequences of your actions, if you have to put in the effort yourself to fill up the tank.' This DIY project has also been made open source available.
If the Spree River could speak to us
Artist and product designer Jakob Kukula (DE) is born and raised in Berlin, and the city's thriving scenes and rapidly changing urban structures exert a lifelong influence on him and his work. Take the Spree River: Berliners don't actually swim in it because the river is mainly used for boats. Instead, a swimming pool is placed in the river so you can swim there. The river banks are also not that accessible because they belong to the companies that sit next to the river.
Fish mortality is also high in the Spree. One of the reasons is that the river flows very slowly, a second one is that its oxygen levels are very low. So low, that the municipality sends out a diesel fueled boat to pump oxygen in the water, which costs half a million euros per year, according to Kukula. So how can we find more nature-inclusive ways of living with the Spree? What methods and designs can help us to cure it? How can we develop regenerative processes, and what stories do we need to tell ourselves in order to do so?
SpreeBerlin – The Voice of a River is conducted through a Buoy, a citizen sensing device developed by Kukula and his team, that measures pollution, produces data and communicates to citizens along with small narratives pertaining to the ecology of the river. Thus personifying the Spree by telling stories. The device also from time-to-time pumps oxygen in the water in an attempt for partial remedy of our pollutant life styles.
People can scan a Buoy through an app to listen to how the Spree is doing today, and where it's safe to swim. Off course it takes into account that if the Spree says 'Heute fühle ich mich gesund', it needs to be asked: for whom? Humans, fishes, plants? The eventual goal is to make the city more livable again by improving the water quality of the Spree and renaturing its river banks by shifting from a human-centered attitude and to act in a planet-centric way.
Learnings from the panel
After the presented projects, the artists took the stage together with professor Godelieve Spaas. During the panel talk, they discussed how art-driven innovation can help to establish environmental commons in society at large.
Spaas' first reaction: 'I'm really impressed. Each of the projects has the potential of changing our system in a different way.' Looking at Spree Berlin, she states how interesting it is to make nature a tangible entity by giving it a voice through measurements. 'I see a lot of companies who are interested in bringing in non-human but don't know how to do that. Tools like Buoy make it possible for companies to give the non-human a seat at the table, despite the fact that the Spree doesn't have a legal status.'
Learnings
Use of regenerative materials for non-humans:

we should use materials that are regenerative for non-humans. Our natural resources are currently taken apart from the ecosystem while they could be part of a regenerative ecosystem all the way.




The role of art:

art is opening up knowledges and has the unique ability to make knowledge felt by the participant. Art can relate well to science and the public.




The role of businesses and industry:

professor Spaas is currently working on a project that researches a form of brokerage between the industry and art(science). This would allow art to remain art, because often if the artists want to be heard in other domains, it tends to become more functional and problem-solving instead of them being artists who explore and open up perspectives. The aim is to bring knowledge of the arts or arts motivated knowledge production to other parts of society and businesses and to multiply it.




Knowledge production and knowledge commons:

the establishment of environmental commons is dependent on open-source knowledge or knowledge commons. This asks of us to change our current idea of ownership and single use. The artists feel that they have to make a shift from patents to open source as well, but the same could be said for science, industry and business.
About S+T+ARTS 
Science, Technology and the Arts (S+T+ARTS for short) is a European Commissioned initiative that supports the collaboration between the three disciplines. By handing out two yearly S+T+ARTS Prizes, the aim is to foster innovation in order to tackle economic, social and technological challenges that face today's Europe. Waag is one of its consortium partners next to Ars Electronica and Bozar Brussels, amongst others.