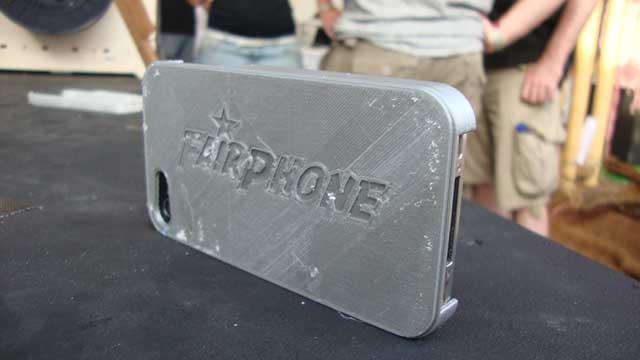 One phone case? Four empty glasses please!
Lowlands 2012: fantastic bands, partying people, a huge water fight and tropical temperatures. FairPhone was there!
On Llowlab, the artificial island that was built opposite Alpha stage for the third time, it was all about science and innovation. This year visitors could see molecular jewelry from the University of Groningen, a belly band that transforms fat into energy by the TU Eindhoven and they could cool down in a sustainable whirlpool of TU Delft.
We also had a spot on the island where we created a unique production line in collaboration with TU Delft. Empty bioplastic beercups were melted into thread for our 3D printers. With this we then made phone covers that had a design that was developed especially for the weekend.
With this concept we showed that creative reuse of products at local level is possible. Our message this weekend was not to "consume less". We stated; consume! Beer off course.
Production 'on the spot'
For most visitors, seeing a 3D printer in itself was an exiting experience. Responses ranged from: "In 10 years we'll probably all have such a machine in our house" to "Hey, I've seen at the tv show De Wereld Draait Door" or "Can that thing really make plastic covers for my mobile phone?" Many visitors wanted to try out a case to see how firm the quality was. And off course it does remain an extraordinary sight to see how the printer builds up the product layer by layer. Our first design took about 45 minutes to finish and "consisted" of four empty glasses. On day two and three, we modified our design so that we could produce even faster.
Facts & figures
The island was built in 4 days. FairPhone had 1 stand, 5 crew members and 2 3D printers. During the weekend we made 3 different designs: The first case took us 45 minutes, the second 30 minutes and we could print 4 labels in 20 minutes. One case consists of 4 plastic beer glasses. During the festival we welcomed got 20.000 visitors.
Click here for an impression of the weekend.