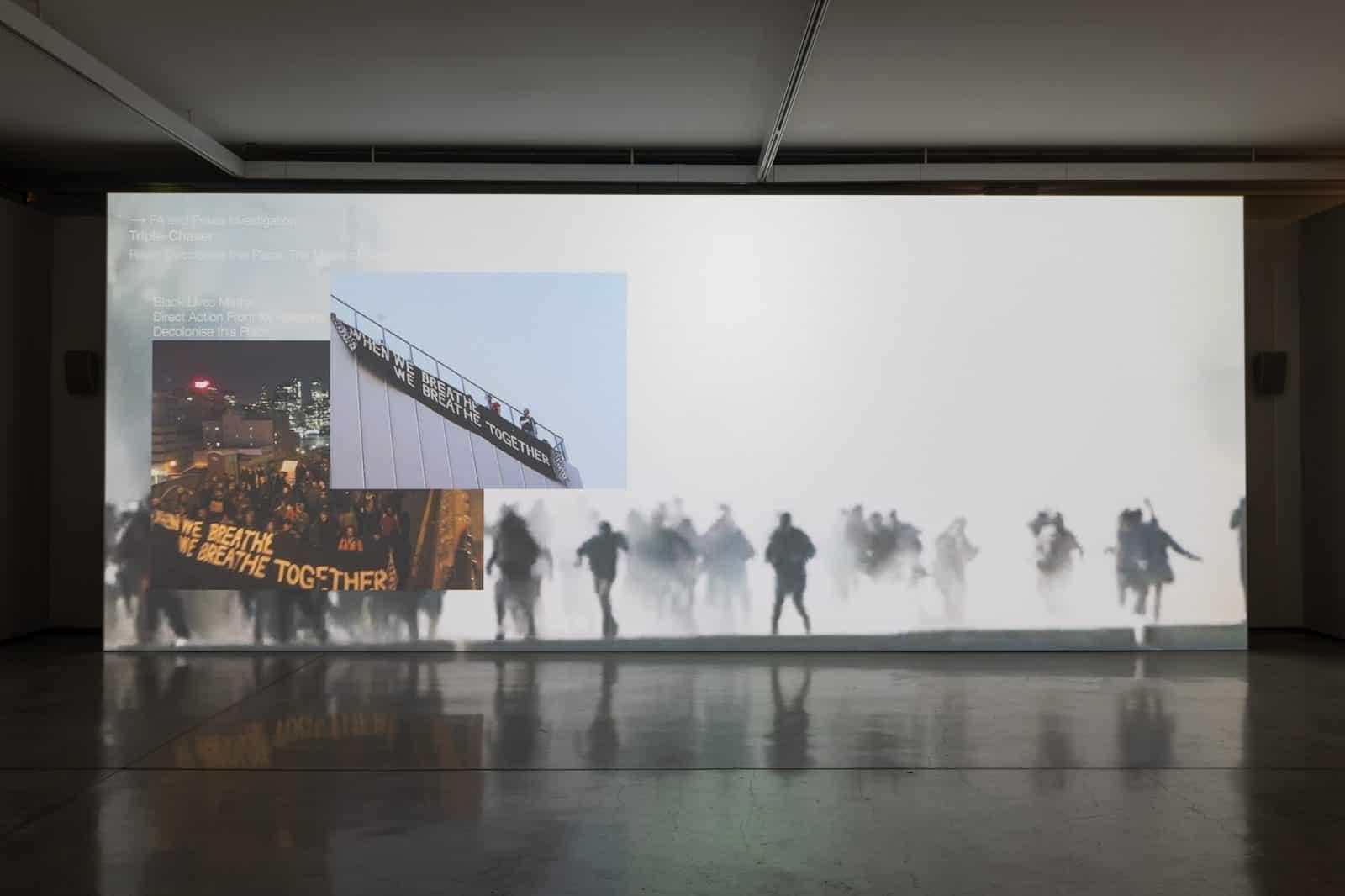 Toxic clouds, edible soil and disease-causing technology at Ars Electronica 2021
At Ars Electronica 2021 it becomes clear how much we need art, especially in times of despair and lack of answers to global issues. The artworks allow us to look at new technological, scientific and cultural views in a more insightful and thoughtful way – thereby creating a space for possible solutions.
Since 1979, Ars Electronica organises an annual festival for art, technology and society. The festival shows how art encourages innovation, critically questions new technologies, and offers new perspectives on the world around us. Just like last year, this was a hybrid edition, where the artists, the public, the partners and Waag were present both online and live at the festival in Linz (Austria).
During the festival, Waag was co-organiser of the STARTS day. Lucas Evers moderated the conversations with the STARTS Prize winners, and the VOJEXT-talk Robots are people, too, organized by Waag, was moderated by Miha Turšič. The Better Factory workshop The intersection between Art and Industry could also be attended.
Focus on the environment
The STARTS Prize - a prize of 20,000 euros for two projects that innovate at the intersection of art, technology and science - is awarded at the Ars Electronica festival. The prize focuses on art that helps to find solutions to major challenges. The festival exhibition featured the works of the nominees and winners. This year, the environment is central in many STARTS projects. The winning project Oceans in Transformation by Territorial Agency investigates the impact of human activity on the world ocean. The ocean is the most dynamic and sensitive component of our living planet. Territorial Agency uses geospatial and remote sensing data to create public settings in which multidisciplinary groups of experts can discuss complex environmental issues.
The other winning project, Remix el Barrio, takes a very different approach to the environment. This group focuses on making new, sustainable materials from food waste. They do this by setting up a local materials cycle. Local communities are involved in the process of creating together, working towards a circular economy. Whether high-tech and global, or low-tech and local: both projects stimulate innovative collaboration and offer a new perspective on technology.
Toxic clouds, edible soil and technology that causes disease
Not just the winning STARTS projects, but also many other works at Ars Electronica showed a focus on environmental issues. Cloud Studies by Forensic Architecture, like Oceans in Transformation, worked on the digital understanding of the environment – for which it was awarded both a Golden Nica from Prix Ars Electronica and an honorable mention from STARTS Prize. Forensic Architecture analyses a wide variety of 'toxic clouds': gases deployed on groups of people, animals and plants, emissions indicating environmental crime, or other incremental forms of airborne violence posing challenges to civil societies. Combining digital modeling, machine learning, fluid dynamics, and mathematical simulation in the context of active casework, it serves as a platform for new human rights research practices directed at those increasingly prevalent modes of 'cloud-based,' violence.
In Western cultures, the soil has been devalued to dirt and is mainly used as a natural resource. However, Marsharu takes a different approach. With The Museum of Edible Earth, she reintroduces geophagy – the practice of eating soil and earth-like substances, such as clay and chalk. This is an ancient spiritual and healing practice in countries in Africa, Asia and Latin America. Visitors are encouraged to touch, interact, and taste soil. Her work contrasts with The Cleanroom Paradox – the work by Felix Lenz, Angela Neubauer and Eszter Zwickl. Using the ink from chemically dissolved smartphones, they made a portrait of a Samsung worker poisoned by chemically toxic factory conditions. Her employer failed to acknowledge the lack of adequate precautionary health measures during work procedures. After her time in the industry, she is left alone to deal with the drastic consequences: a kidney cancer diagnosis.
Both works of art offer a new perspective on the human relationship with the environment. The Museum of Edible Earth and The Cleanroom Paradox are in contrast: how 'dirty' is dirt, and how 'clean' is the environment and the technology that humans create themselves?
A price tag on the work of the biosphere
People usually take the presence of the natural world for granted, just as well as the natural services that are essential for all life processes on our planet. We have become accustomed to expressing the value of things in terms of money, but this is insufficient to properly express the intrinsic value of ecosystems on which all life forms depend. Disnovation.org experimented with estimating the value of the services to natural systems provide 'for free' in the project Life Support System. 
The 'Life Support System' experiment consists of 1 square meter of wheat cultivated artificially in a closed environment. All inputs such as water, light, heat, and nutrients are measured, monitored and displayed for the public. The 'true-cost estimates' obtained through this indoor experiment are about 200€ per kilogram of wheat, an extravagant cost compared to the 15 cents per kilogram current market price. This procedure makes palpable the orders of magnitude, of material and energy flows, that are required to reproduce human nutritional requirements in closed or artificial environments - in contrast to outdoor agriculture on arable land. The experiment reveals the indispensable value of the ecosystem's contribution, pointing to the undervaluation and over-exploitation of 'the work of the biosphere'.
'We want to take technology to a new level'
Waag and Ars Electronica are partners within the STARTS initiative. In addition to the STARTS Prize, this also includes the VOJEXT and Better Factory projects. Both projects are aimed at co-creation between artists and industry.
For example: the added value of art in creating new technology and innovation in robotics. This topic was central during the VOJEXT-talk Robots are People, too. How does co-creation between artists and industry stimulate innovation? Lead researcher Francesco Rea (IT): 'creativity in robotics is already addressed, there are networks that can generate new things, such as new movements from their learning processes. But we want to go beyond that: as we are working on movements, we also want to create new kinds of movements. That is why we want to collaborate with artists: we are after a new kind of creativity.' 
Artist Madeline Gannon (US): 'companies can benefit from the work of artists, for example, because they build new types of tools while working on a work of art. Companies often do not have the time to develop these tools during their projects. Artists create things that allows the industry to see around the corner, and create an idea of what their clients might want from them in fifteen years down the road.' 
This year's edition of Ars Electronica highlighted the big topics that influence our future. Whether it is about environmental issues, art as a driver of technological innovation or co-creation in robotics: the Ars Electronica festival makes us look differently at the world as we know it and creates a new perspective for the future.