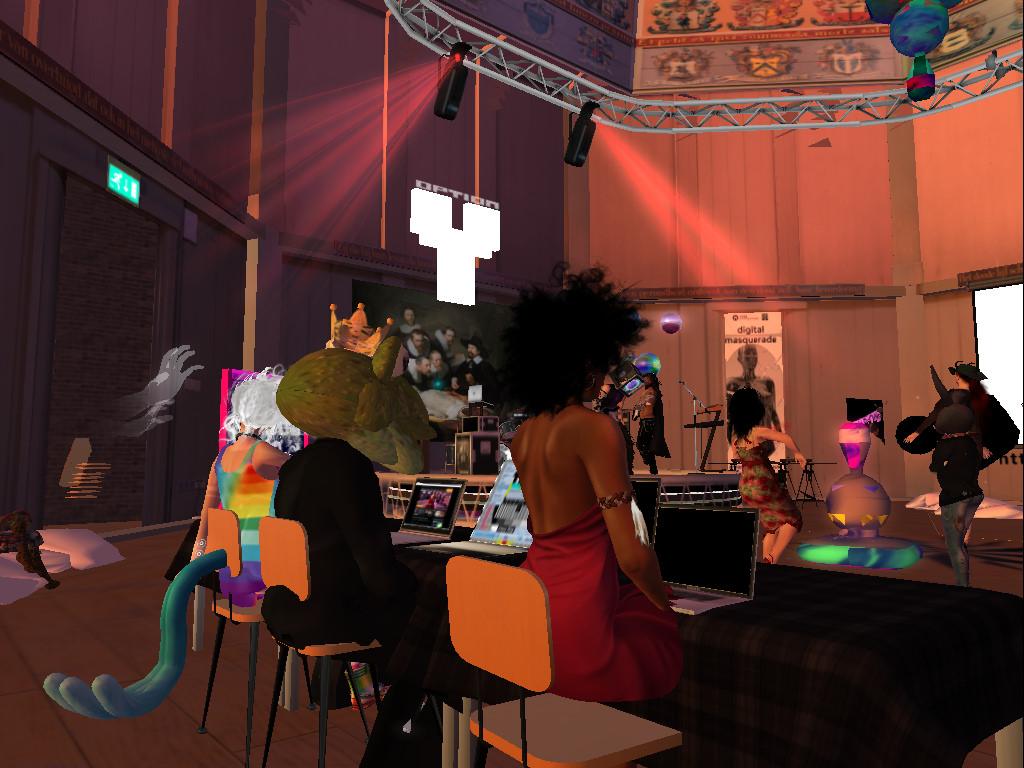 Who are you when the lights go off? A better, more honest version of yourself, or do you feel tempted to embody a different person entirely? During Digital Masquerade, we explored the freedom of anonymity in a physical chatroom.
After "logging in" (by putting on a mask with an image of choice clipped to it) visitors joined an online chat on their phones, entering a darkened room with two large projections on the wall. One of them being the anonymous live chat, the other one being a livestream to an online game which showed a realistic simulation of the room. The simulation was filled with eccentric avatars of gamers who were joining the chat discussion and following the course of the evening through a livestream simultaneously.
Confronted with a statement on identity by Cyborgs rights activist Aral Balkan and a preview of a film on identification technology by Robert Glas, visitors in both realities were commenting and discussing anonymously in the joined chat. No speaking, just staring at phones and screens, typing, reading and occasionally chuckling at a comment. Digital means of communication fused with a physical setting blurred the lines between reality and virtuality.
The experimental band OptionY was performing in-game, filling the room with peculiar sounds and visuals. The host of the evening was a computer-generated voice, which read out parts of the chat discussion throughout the night, highlighting the clash of banal comments with complex thoughts on identity.
After the film preview, the question: "What would a world without identification look like?" silenced the random comments and trolls for a moment:
"Our identity: how we present ourselves, how we are perceived, and how we are categorized by society/government."
"But can you change your identity?"
"Are we actually ourselves or just a representation of ourselves that is perceived by others and therefore created in mind, whilst we actually still are a collection of cells only?"
"Of course, identity may also be a dialogue, between others as well as within oneself, internal informed by external in an endless circle."
"What is your identity, you consider your identity your consistent trades bit other than the physical trades we are all in fact a bit situational."
"Identity can be fluid, but the agencies that categorize humans for various paperwork needs/census etc... Are less fluid unless the systems get changed."
"Identity is a social construct."
"For me identity means that I can snatch my wig and flaunt it."
So what does identity really mean to you and how is it affected in the digital age?
Digital Masquerade was an experimental evening curated by graphic design student Louisa Teichmann, making space for a discussion which is becoming more relevant the more we progress into a digital reality.