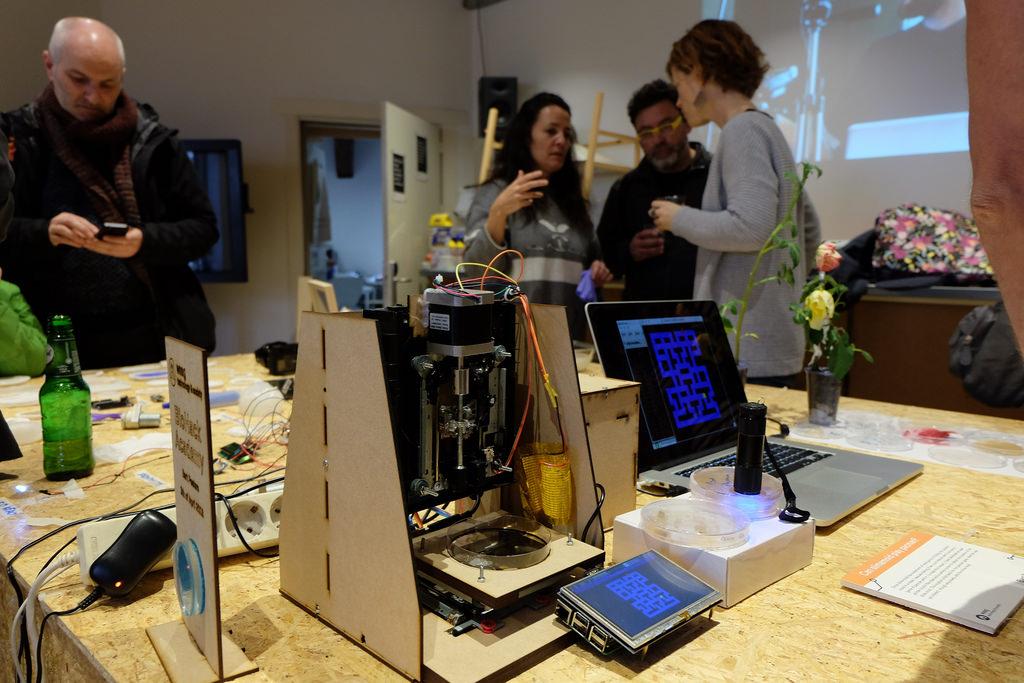 2018-04-03T17:00:00+02:00
2018-04-03T19:00:00+02:00
Exhibition BioHack Academy #5
This exhibition shows all final projects of the student of this years BioHack Academy that started January 2018 at Waag. Discover the future of food, materials and product during the end presentation of our students. The projects will challenge the way you think about biotechnology and its creative application. Expect limunating algeas, materials of cellulose, manipulated snow algae, bioplastics, soft robotics, body odor extraction and mucus intolerance.
During this event the BioHack Academy students will present their final project and receive the official BioHack Academy Award. Everyone is welcome to join us and cheers to our latest generation of biohackers.
Entrance to this event is free.
Roland van Dierendonck, head of the BioHack Academy will talk about this year's BioHack Academy after which the students will elaborate on their projects.
The BioHack Academy
Bio-technological developments follow each other at a rapid pace. Inventions, such as the CRISPR-Cas9 technique that allows genetic manipulation of DNA, can have far-reaching consequences. The simplicity and low costs of many techniques make it possible to apply biotechnology outside laboratories and research institutions and to carry out experiments. In the BioHack Academy the focus is on making lab equipment accessible through the open source sharing of designs.
During BioHack Academy #5 the students worked with microbes, algae, genetics and other forms of biotechnology. During weekly classes, students quickly learn the basics of biotechnology, 3D design, digital fabrication, programming and electronics. Students work with biomaterials and build open-source hardware that everyone manufactures in the Fablab. The biomaterials vary from bio-pigments to bio-textiles.
In addition to gathering new knowledge, the BioHack Academy is also about sharing knowledge. All lab equipment manufactured within BioHack Academy is open-source. This means that everyone is completely free to improve the design, adapt it to own preference and continue experimenting.
BioHack Academy #5 students:
Matthijs de Block (BE), Jahangir Jahanbahkshi (NL), Jan Köhler (DE/HN), Malu Lücking (DE), Laura Olalde (AR), Bart Peeters (NL), Anna Pelgrim (NL), Alexander Rose (UK), Nel Thomas (DK).
Want to become a biohacker?
BioHack Academy #6 starts in January 2019.