2022-11-05T19:00:00+01:00
2022-11-06T02:00:00+01:00
Museum Night x Waag: How to gain control over the algorithms?
On average, we spend 5,5 hours per day swiping and scrolling behind our screens. Do you ever wonder how profit models behind 'free' apps such as Instagram and TikTok are modelled? Who gets to decide the rules in the current attention economy? During Museum Night 2022, artists and their interactive installations will offer new perspectives for a more open, fair and inclusive world at Waag.  
Because the current digital world doesn't look at all at the originating, idealistic idea of a new free world that the internet promised to be in the beginning. Discriminating algorithms, digital illiteracy, surveillance capitalism and the power of social media platforms are just a few of the challenges to tackle. Dive deeper into the attention economy, and hop by at Waag for a dance and drink during Museum Night. If I can't dance, I don't want to be part of your revolution! 
Program
TheirTok: Tame the Tok (19 - 02:00 hrs.)
Algorithmic recommendations make social media an addictively fun place to be in. With the interactive installation TheirTok, artist and designer Tomo Kihara (JP/NL) sheds a playful light on TikTok's non-transparant algorithm. Unconsciously, algorithms nudge what we like and buy, and they sometimes even create polarising filter bubbles. In the current attention economy, where companies and politics fight for our attention, you could even say that we are being 'tamed' by algorithms. But what if we could 'hack' these systems by taming the algorithms ourselves? Take a step outside your filter bubble and join TheirTok.
AA Alcoholic Algorithm (19:00 - 00:00 hrs.)
Algorithmic recommendations determine what we hear, watch, know and like. But can an algorithm determine what we drink? During Museum Night at Waag, you drink whatever the algorithm is having. What does our AA (Alcoholic Algorithm) know about your deepest alcoholic cravings? Find out at the AA cocktail bar while enjoying sounds from our algorithmic generated Gen Z playlist. And don't worry: the other bars remain open until the end of the night.
Squat the mind with digital meditation (19 - 22:00 hrs.)
Artist Lukas Engelhardt (DE/NL) builds, brakes and repairs servers for himself and others. He's also member of Amsterdam squatting collectives Hotel Mokum and Mokum Kraakt. In 2022, he finished the Master of Fine Arts at the Design department of the Sandberg Institute in Amsterdam. Lukas will present a guided meditation during Museum Night, that he developed together with friend and colleague Paul Bille. Release your mind and get your head in the cloud.
AI-kunst expo by SETUP (19:00 tot 00:00 hrs.)
For years now, we've been hearing stories about how artificial intelligence will take over our jobs. If you want to avoid that destiny, you should better pick a creative job, or so they said. The enormous calculative strength of an AI is good in recognising patterns, but it doesn't know anything about beauty and expression. Nevertheless, we see all kinds of AI systems popping up that can create an endless stream of new art works in every style or artistic movement. 
But what is it that we are actually looking at? To better understand how we should consider AI generated art, SETUP created an expo for Museum Night. Visitors can create their own AI image themselves as well. The curator decides on the spot, if 'your' work will become part of the expo. 
WAIVE: DJ'ing with AI (19 - 22:00 hrs.)
Players gonna play: play the algorithm of WAIVE and get the most Museum Night visitors to shake their tail feathers! This smart do-it-yourself DJ system is an Artificial Intelligence driven tool, with which Thunderboom Records (Max Tiel and Joost de Boo) unlocked audio footage of the Dutch Institue for Sound and Images. WAIVE allows you to create your own samples and beats, that the rest of the Museum Night visitors can listen to on silent disco headphones. 
DJ Sloopkogel Wies (21:30 - 23:00 uur)
DJ Sloopkogel Wies has a monthly radioshow together with Sara-Liz van Til at Echobox Radio. She also played at Sociëteit Sexyland, Podium Victorie (Haarlem) and Hermitage Amsterdam during Museum Night. Be prepared, for she will demolish the dance floor like a wrecking ball (sloopkogel). 
DJ Casimir (23:00 - 23:30 uur)
You might also know DJ Casimir as Cas J. Mulder, director of music videos for the likes of Dutch artists Froukje, Ray Fuego and S10. In order to bring Museum Night at Waag to the next level, the makers of WAIVE - Thunderboom Records invited DJ Casimir because of his DJ skills and excellent taste in music. We're excited that he'll play a set the Theatrum Anatomicum.
DJ Lizzy Green (00:00 - 02:00 hrs.)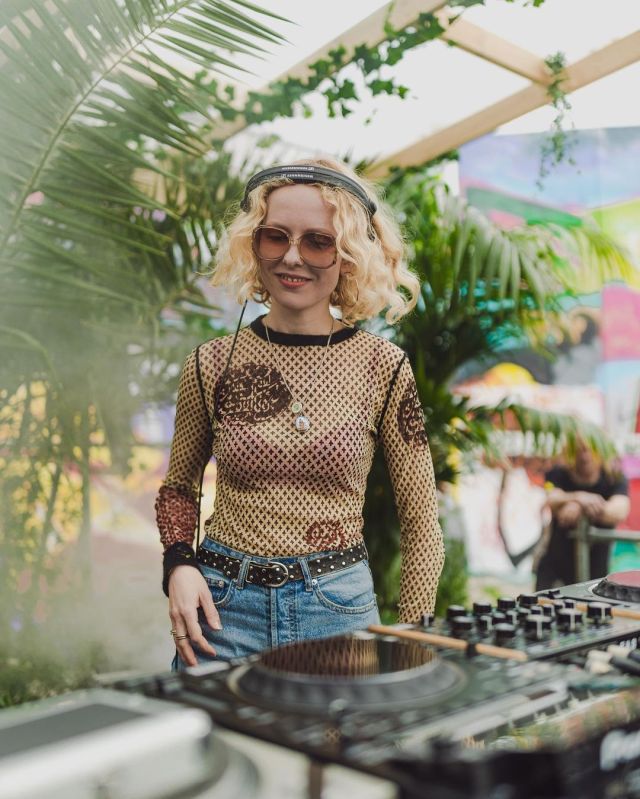 DJ Lizzy Green is a record selector who likes to go through recordshops to find just that whiff of house, Italo, boogie and disco grooves necessary to elevate the space to a new level of ecstasy. As a collector and music lover, she's always on the search for just that surprise element that give her sets the indescribable X-Factor. She based in Nijmegen, but playing sets that spread like an oil slick. Lizzy is a radioshow-regular at Radio TNP, Open Source Radio and Operator Radio and club slasher at Subcultuur, Weelde, Amsterdam Dance Event et. al.
About Artsformation 
Museumnacht x Waag is supported by Artsformation. In this project, Waag researches together with other European partners how art and artists can play a role in creating more open, fair and inclusive technologies. It is based on the thought that artists play an essential role in tackling today's social and technological problems, because they are the ones who work critically, playful, rebellious and creative. In that way, artists are the ones who are making societal challenges tangible.    
More info? Take a look at artsformation.eu