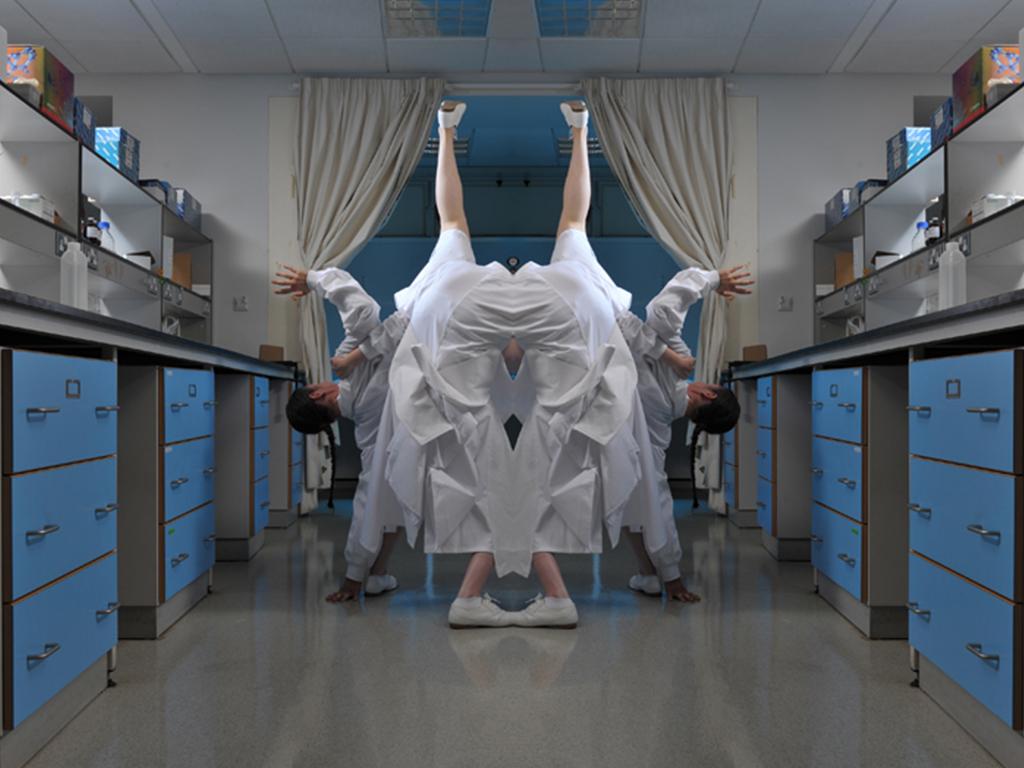 2017-05-12T18:30:00+02:00
2017-05-12T21:00:00+02:00
Performance Be-wildering by Jennifer Willet & Kira O'Reilly
During the final performance of Trust me I'm an artist O'Reilly and Willet will bring (or perhaps smuggle) a variety of living materials to the Theatrum Anatomicum of the Waag building in Amsterdam, questioning which species are allowed in which ecologies, the laboratory as ecology and the wilderness as lab. A specially formed local ethics committee will react.
This performance will be followed by the Trust me, I'm an artist group exhibition that is on display from from 13 May – 25 June at Zone2Source's Het Glazen Huis in the Amstelpark. Open Friday – Saturday - Sunday 1 am – 5 pm, or by appointment.
The performance
Questions will be raised on bio-safety, public health, pollution and toxicity. The work will be presented too the committee. While following the rules and procedures typical for the Netherlands, the ethics committee will debate the proposal and come to a decision. The artist will be informed of the ethics committee's decision and, together with the audience, enters into a discussion about the result.
Willet and O'Reilly have performed together before and for Trust Me I'm an Artist their work will again intersect, this time in a faux ethics review of different but parallel practices escaping the studio, the laboratory, and into the wilderness. Part performance, part lecture, part bureaucratic response and procedural rebellion O'Reilly and Willet will propose a series of real and imagined attempts at 're-wilding' their art/science practices. They will propose to enact twin sets of installations in Canada along the coastline of the Great Lakes, and in the forests of Finland. Unruly laboratory and performance practices will challenge notions of pollution, invasiveness, toxicity, and discrete national boundaries in interspecies dispersal actions; calling into question the possibility of a wilderness at all.
Entrance is free. If you want to attend the performance please sign up via the form at the bottom of this page.
Collaboration between Willet and O'Reilly
Jennifer Willet and Kira O'Reilly have collaborated on a project-by-project basis since they met whilst both artists in residency at SymbioticA, University of Western Australia in 2004. They have trained together in vitro tissue culture techniques, performed non-human animality with cell cultures, they have climbed into aseptic work environments disorientating scientific scrutiny, and have folded and unfolded bodily refigurations in various laboratory settings.
Ethics Panel
Dr. Ellen ter Gast (chair) - The ethics panel will be chaired by Dr. Ellen ter Gast, who also chaired the very first edition of Trust me I'm an Artist. Ellen ter Gast is biologist, philosopher and teacher who teaches Art-Science at Maastricht School of Fine Arts and Design, bioethics and art and life sciences at Leiden University, ethics of test animals at Groningen University.
Prof. Dr. Sabine Roeser is Professor of Ethics at TU Delft (distinguished Antoni van Leeuwenhoek Professor). Her research covers theoretical, foundational topics concerning the nature of moral knowledge, intuitions, emotions and evaluative aspects of risk, but also urgent and hotly debated public issues on which her theoretical research can shed new light, such as nuclear energy, climate change and public health issues. She has a special interest in whether and how the arts can address ethical issues arising from emerging technologies.
Prof. Dr. Toby Kiers is professor of Mutualistic Interactions at the Department of Ecological Science. Faculty of Earth and Life Sciences, Vrije Universiteit, Amsterdam. She received her Phd from University of California, Davis in 2005 with a focus on Ecology, Evolution and Agriculture. She became a University Research Chair and Professor at the VU in January 2014. Her mutualistic understanding of interactions in ecology will help to understand the intereactions created by the performance of Willet and O'Reilly.
Chris Bisson is Eden Project's Policy Development Manager and develops and manages bioscience and horticulture focussed projects. Having worked in areas of plant conservation, botany and most aspects of horticulture he has a broad knowledge of UK and global plant science. Recently, Chris has worked on Eden's scientific engagement programme and collaborative projects with Cornwall College, Universities of Exeter and Plymouth, the Ancient Tree Forum, STEM Learning (UK) and the Wellcome Trust.
Karin Spaink is a journalist, writer and feminist. Spaink is a free speech advocate and social critic. Her frequently discussed subjects are amongst others the right to inform people about methods of suicide to the Church of Scientology, who sued her for more than ten years.