WEAVE - ZigZag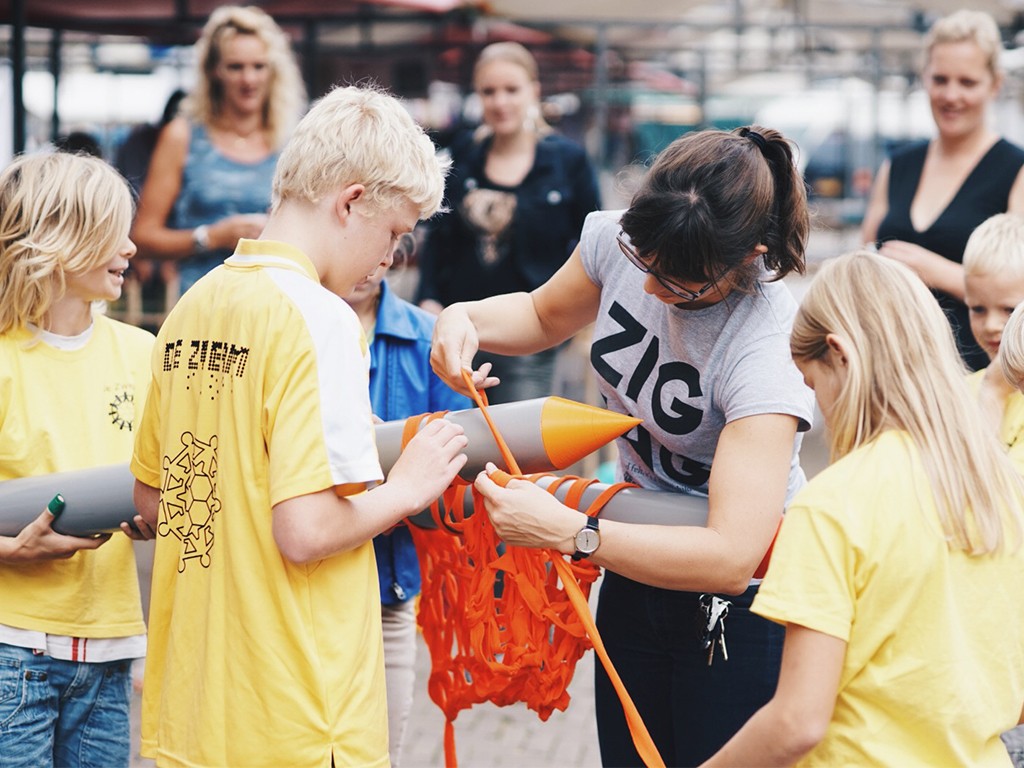 Textile, fibre and felt: it's Smart Child's play
With the project 'Weaving Europe: Artefacts, Values & Exchanges - Cycles of cultural events and ateliers to discover Culture and Art through Textiles and Fibre Artefacts in Europe' (WEAVE) we stimulated children, their families and teachers to learn more about cultural and historical topics. Our main tool for this? The culiminating event was 'ZigZag: Textile, fibre and felt - it's Smart Child's play!'
Why textiles?
Textile plays, besides its industrial function, an important role in preserving cultural and social heritage and expresses lifestyles, geographical areas, history, traditions, values and symbols. Artists will play an important role in this project in the (re)introduction of 'forgotten' traditional techniques and new applications, such as the use of smart textiles and digital manufacturing.
For whom?

The WEAVE project and ZigZag events focused on children from 3 to 12 year old, their families and teachers. In the project, children worked together with artists whilst learning about materials, techniques and the historical and cultural background of the textile industry. The target audience was encouraged to discover Textile and Fibre Art and playfully learned more about European Cultural Heritage. The children were informed about these topics in a non-formal educational manner: they worked hands on with artists in creative workshops. They developed their creative skills and learn by doing. ZigZag wanted to close a gap in the educational field and inform the future generation better about cultural heritage, textile arts, engineering and manufacturing of smart textiles. The project fitted in well with our Fabschool methods.
Events organized
Within ZigZag, three collective textile artworks were made by the children, artists, designers and staff of various museums. This happened at three free public events in The Netherlands, Bulgaria and Italy. In preparation for these events, the children learned more about the various (technical) aspects of textiles in twelve educational sessions. A Best Practices Guide will be created and shared with other museums and a photo exhibition will be created that shows the entire process. The project also provides training opportunities and opportunities for sharing knowledge for the staff of museums.
ZigZag is the main ouput of the project WEAVE, whose coordinator is Museo dei Bambini Società Cooperativa Sociale Onlus (Explora) in Italy with Waag and Association Art Land (Art Land) in Bulgaria. In addition to these three organizations, there are seven other European institutions that join in: Imaginosity Dublin Children's Museum, Museum of Macedonia, Istanbul Toy Museum, Associazione Le Arti Tessili, Hands on! International, Sofia University St. Kl. Ohridski and Università Sapienza.
Within this project, Waag was responsible for the creative and artistic content development and coordination and for events planning and production of the ZigZag events in Amsterdam, Sofia and Rome.