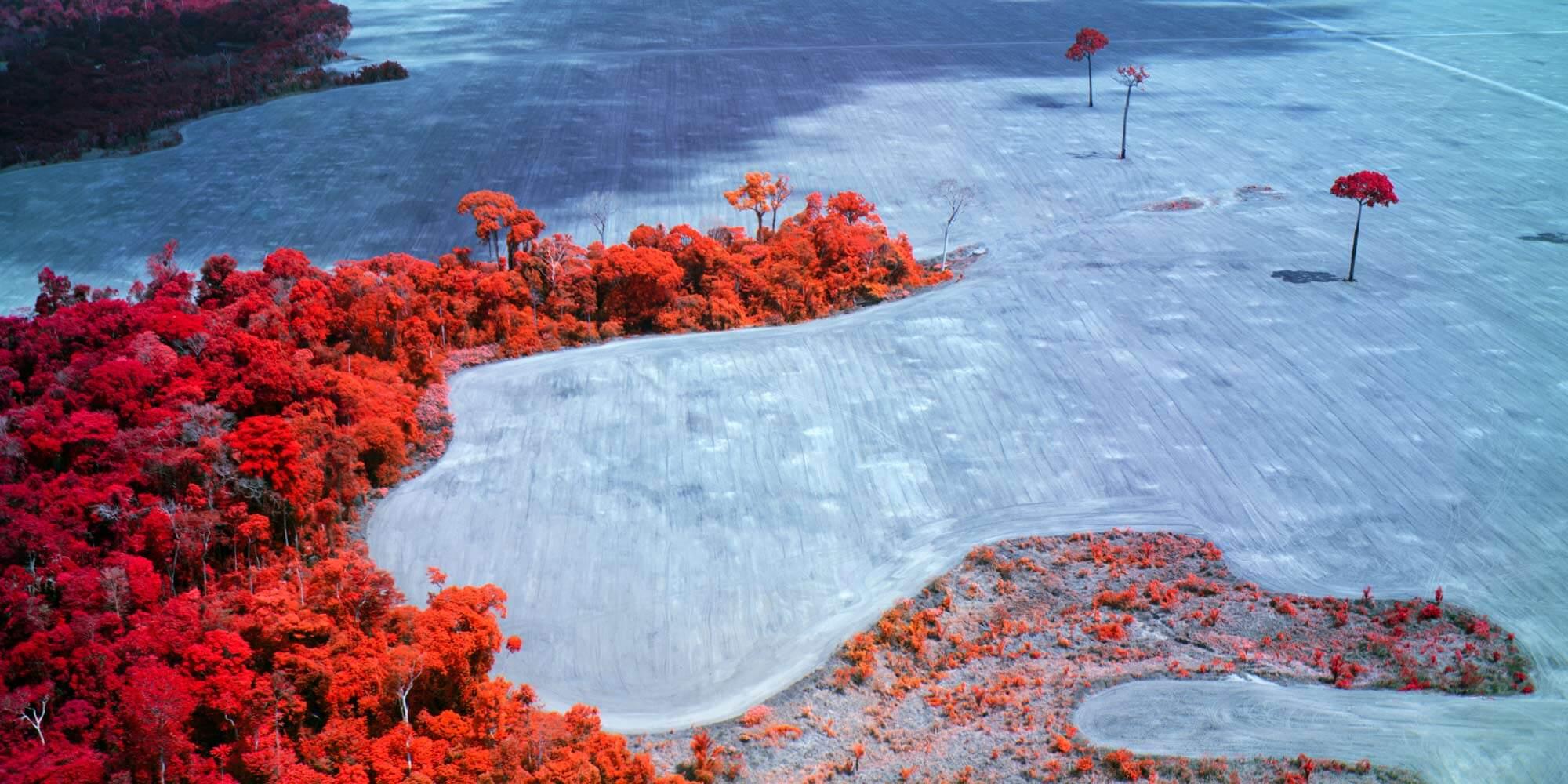 These are the '23 S+T+ARTS Prize winners
This year's S+T+ARTS Prizes 2023, each worth €20,000, have been awarded to Alexandra Daisy Ginsberg (GB) and Richard Mosse (IE). The S+T+ARTS prize is an annual award of innovative projects at the intersection of art, technology and science that contribute to economic and social innovation.
Grand Prize – Artistic Exploration
Pollinator Pathmaker / Alexandra Daisy Ginsberg (GB)
An artwork for pollinators, planted and cared for by humans; art using algorithm for ecosystems
How would insects shape our gardens and parks? This question is the starting point of an experiment with which Alexandra Daisy Ginsberg is attempting to create the largest climate-positive work of art in the world. Pollinators such as bees, butterflies, and wasps are indispensable for the flourishing of ecosystems. However, their populations are rapidly declining at an alarming rate. Whether due to soil sealing, monocultures, pesticide use, invasive species, or climate change, the reasons for their deaths are many and the consequences devastating. The loss of a pollinator species often means the extinction of a plant species that relies specifically on them for pollination.
To counteract this, Ginsberg initiated the Pollinator Pathmaker. The online platform—or the algorithm behind it—helps to create an "empathetic" planting plan that favours the greatest possible diversity of pollinator species. To do this, the algorithm selects plants that thrive in the particular location and attract as many pollinator species as possible. Each garden designed in this way looks different and is an algorithmically generated living work of art for the more-than-human and humans.
Pollinator Pathmaker resonates with Waag Futurelab's Urban Ecology Lab's commitment in exploring the future of the city as a living place, where people live together with many other forms of life such as animals, plants, soil, air and micro-organisms. Join this Lab's Landscape Festival at Amsterdam Science Park this summer!
Grand Prize – Innovative Collaboration
Broken Spectre / Richard Mosse (IE)
Art using remote sensing technologies to reveal and criticise environmental crimes
Broken Spectre is the portrait of an intentional environmental catastrophe that unfolds along the 4,000-kilometer-long Trans-Amazonian Highway. Illegal logging, slash-and-burn agriculture, gold digging, prospecting, and panning, damming of rivers and the resulting floods, theft of indigenous lands, the establishment of vast monocultures, and factory farming—Richard Mosse documents the widespread but often invisible fronts of industrialised ecocide in the Amazon Basin. His dream-like, immersive video tells of excessive violence against humans and the more-than-human and interrogates the responsibility that regional, national and international capitalist extractive systems bear in the process. As a form of critique to settler colonialism, he used the fraught iconography of the Western film, which carries uncanny echoes of the reality encountered in the field—a natural paradise and its Indigenous populations being colonised by pioneer settlers with the righteous zeal of Manifest Destiny and a distinct form of cowboy culture. 
Richard Mosse has used similar remote sensing technologies that scientists have used to image and understand deforestation to make his film. He uses a multispectral camera for Geographic Information Systems (GIS) purposes to make aerial video to capture the systematic and massive destruction of forest, UV microscopy to produce reflective and fluorescent ultraviolet macro time-lapse images of the forest biome, and analog S35-mm infrared film to visualise infrared light reflected from rainforest chlorophyll at 720 nm. By using these technologies, this film represents the fronts of deforestation and environmental crimes on both indexical (scientific) and aesthetic registers. During the on-site filming, Richard Mosse collaborated closely with "Acampamento Terra Livre" (an annual gathering of indigenous peoples in Brazil discussing land rights, environmental protection, culture, and social justice), as well as the Yanomami, Munduruku, Suruí, Kaingang, and other indigenous communities.
This project echoes with what Waag's Space Lab has been exploring in the project More-than-Planet, focusing on how artists-researchers create environmental imaginaries that evoke care for environment and ecology, and call for repair and justice for the more-than-human and humans in the environmental catastrophes.
The prestigious STARTS Prize is part of the long-term STARTS initiative of the European Commission. Awards are given to innovative projects at the interface of science, technology and art that have the potential to have a significant impact on economic and social innovation in Europe. Next to the prize money, the works will be part of a series of events organised by consortium partners: Waag Futurelab, Ars Eletronica, Bozar, INOVA+, T6 Ecosystems, French Tech Grande Provence and the Frankfurt Book Fair.
S+T+ARTS Prize at PublicSpaces Conference:
Get to know three of the S+T+ARTS Prize 2023 honorary mentions and nominated projects at PublicSpaces Conference in Amsterdam on 27th June 2023. Anna Berti Suman from Sensing for Justice, Superposition, and Egor Kraft will be talking to Waag's Maro Pebo about making collective datasets for justice.
S+T+ARTS Prize and More-than-Planet at Ars Electronica Festival 2023:
You can experience the winners' artworks but also those of honorary mentions and nominations at the S+T+ARTS exhibition at this year's Ars Electronica Festival from 6-10 Sept in Linz, Austria. At the same festival, you can explore how we imagine our planet and how planetary imaginaries influence the way we relate to environments at More-than-Planet exhibition.