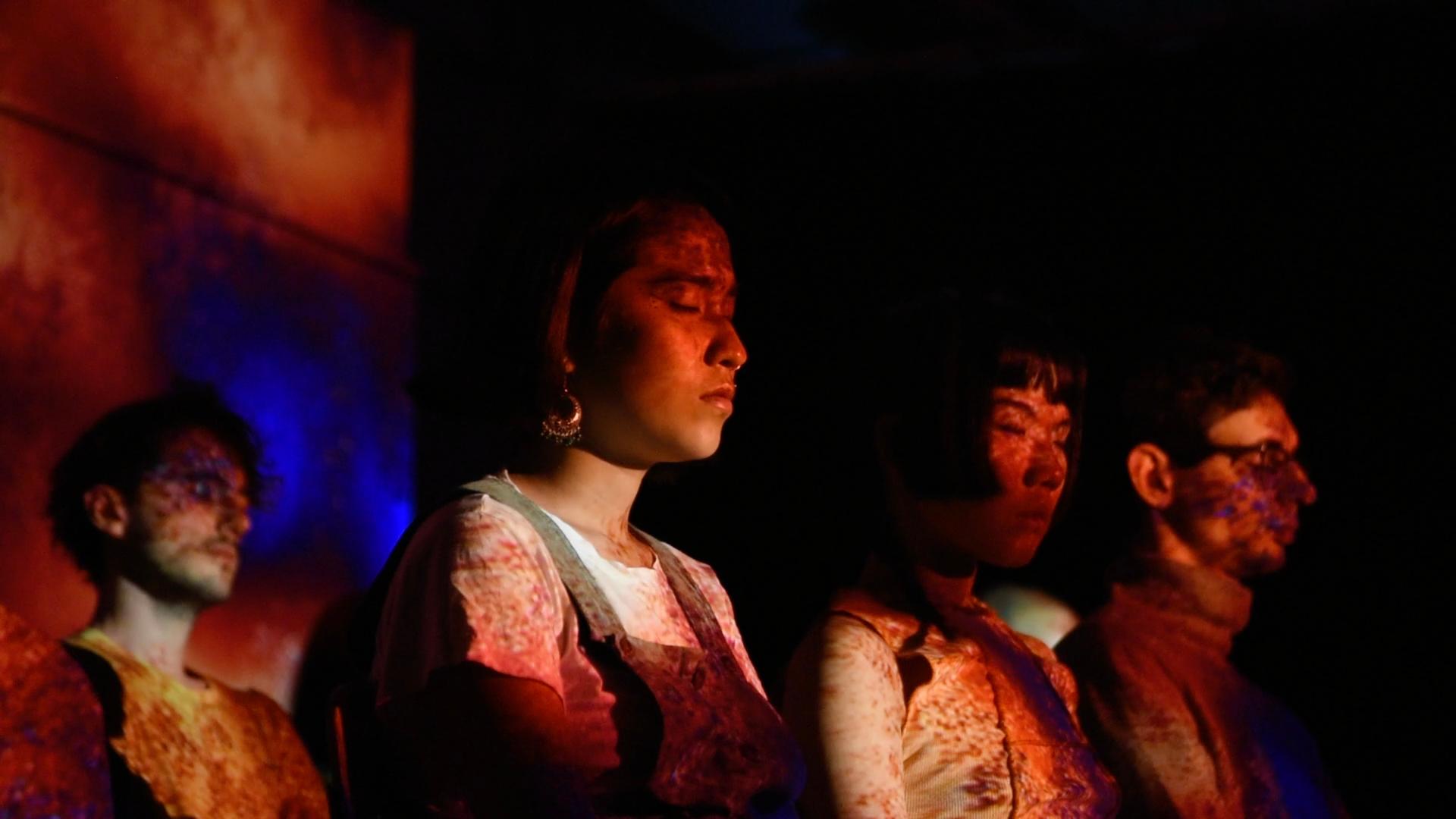 The Waag Art & Technology KABK Awards is a yearly encouragement award that recognises the most promising Bachelor and Master students from the Royal Academy of Art in The Hague. The students also receive a work budget of 350 euros. This year's Waag KABK Awards go to Armand Lesecq (MA Art-Science) for his work Phosphene, and Anne-Florence Neveu (BA Art-Science) for their work May your eyes never look away – May your genitals always be lubricated. Find out more about their works. 
Armand Lesecq – Phosphene 
Phosphene is a 30 minutes film for closed eyes and spatial sound. It uses a projection on the audience's eyelids, a multichannel sound setup and a motorised hyper-directive loudspeaker. Inspired by dreams, neurosciences and hypnosis, the project aims to explore varieties of inner spaces. It is an attempt to reach those territories we might tend to forget or deny, between the surface of the senses and our interpretation of reality, in the depths of imagination, illusions and doubts.
From the jury rapport:
'Phosphene is cinema for experiencing and observation of our inner world, our inner self, which is a great finding in the context of immersive media, not using sophisticated VR technology but projection on the audience's eyelids, combined with immersive sound. Just because in a world wherein more and more consumer media screens and applications push their endless audio-visual streams towards us, Phosphene represents a media work that does the opposite.' 
'It directs attention back towards ourselves, yet by simultaneously remaining abstract it makes us experience being approached, being left, being thrown back onto ourselves. It may be a stretch to relate this experience of inner observation to that of opposite direction, but it may train us not only to look better inside, but also outward. Senses, sharpened from both ends, in and outside to understand our world and what we do in it and do to it.'
Anne-Florence Neveu - May Your Eyes Never Look Away – May Your Genitals Always Be Lubricated
May Your Eyes Never Look Away – May Your Genitals Always Be Lubricated is a lecture performance exploring the broader context of Neveu's research behind their performance series Ballistic Desires For Long Range Attraction. This performance series is based on their research in which the artist follows the media based economy of desire in the captive giant panda and its links to queerness, reproductive technologies and eco-surveillance. Blue follows the first moments of stardom of the giant panda called Lin Ping through a multiprojection of found footage and storytelling that hovers between reality and fiction.
From the jury rapport:  
'The art-science research 'May your eyes never look away – May your genitals always be lubricated' of Anne-Florence Neveu sparked the interest of the Waag jury team because of its relation to the growing attention within the Waag program for the environment and the required need for humans to re-relate to their fellow species in this planet. Anne-Florence's work actually investigates the opposite, the practice of zoos to stimulate the reproduction of captive pandas by showing them pornographic moving images and training their muscular capacity to mate.' 
'Neveu's work is another example of artistic research into the ever further instrumentalization and industrialization of animal life for the benefit of humans. One however can ask the question in this case to what purpose. To that of the entertainment industry, that of panda-diplomacy? What makes this work so interesting is it shows how far humans are prepared to go in their domestication effort and on the other hand how close creatures like panda's are to us as we observe the tricks required – offered by the Porn-Hub charity – to sex them up, yet some of them stick to their own personal taste.'