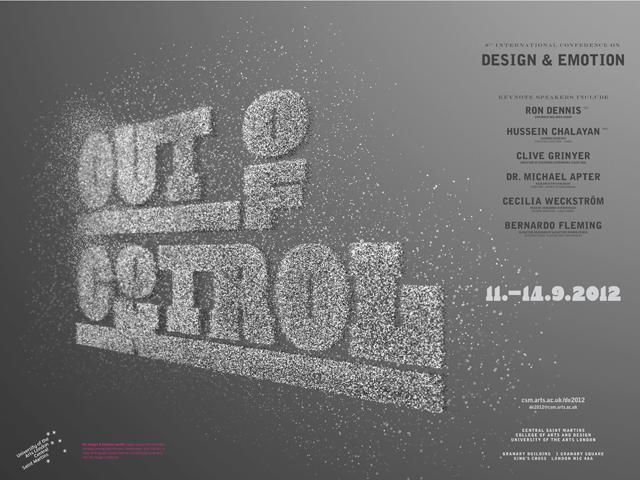 Out Of Control - Design and Emotion Conference 2012
From 12 to 14 September 2012 the Design And Emotion conference took place in London. Inspiring keynote speakers dealt with the theme of "Out Of Control" from their own experience. In the beautiful new building of the Central Saint Martins College of Art and Design at King's Cross campus we listened to stimulating lectures by designers and scientists from around the world.
Cecilia Weckström impressed us with her presentation about the culture change within Lego: "why you need your fans more than they need you." Once Lego discovered  the strength of its supporters and involved them consciously in their product development, this marked the trend of declining sales. Their usual strategy of "one-way communication" was adapted to "people as marketing channel". The start of a new way of working for Lego, namely by means of co-creation. Weckström: "You have to create reasons for your fans to want you to survive as a company. We realized that the brand is in the heart of the customers, as the trademark is what you create as a company." 
Another very interesting speaker was Dr. Michael Apter. He explained his 'reversal theory', currently a major source of inspiration for designers. This helps to understand user behavior, which is very important for designers in order to create meaningful design products or services. Apter's theory explains how the behavior of people can change from one moment to another. This all has to do with the context, if suddenly a safe situation turns into an unsafe one, we see this in the behavior immediately. Laughing turns into crying and composure into stress. However, we always walk this thin line because of our conflicting needs for innovation and control. A so-called "protective frame" can ensure that this distinction is less thin. As an example, Apter mentioned a cage at the zoo. If the the cage is empty, no one will like it. A tiger in the cage provides the necessary tension, in this case, the bars are our protective frame. This tiger cage without bars, however, will yield a very different reaction ... The insight that creating a protective frame can help to encourage certain behavior is interesting for designers. At the conference we saw several successful examples of designs that applied this principle.
An important source of inspiration for the field 'design and emotion' is psychology, in which we can develop our expertise. But this inspiration can also work both ways, as Leandro Tonetto proved in his session. This Brazilian psychologist developed a way to approach qualitative research in a quantitative way. In his research, he data presented data obtained from qualitative research to a large group of people and asked them to what extent these data applied to them. In this way, qualitative research is validated and, in addition, one can understand the relevance of the data.
At the conference, we presented the results of three of Waag's projects (Health Lab, Commit, E2C) which aim at improving wellbeing in the health sector. Our message is that empathic design should be the basis for such projects to succeed. There was a lot of interest for our findings and experiences that help us match communication, tools, methods and designs to the perception of users.
Read about tools developed to gain insight in user's real life in our document: 'Designing for wellbeing in healthcare'.
In short, a very inspiring conference. For future editions, I would recommend anyone who works in R&D for wellbeing to attend.