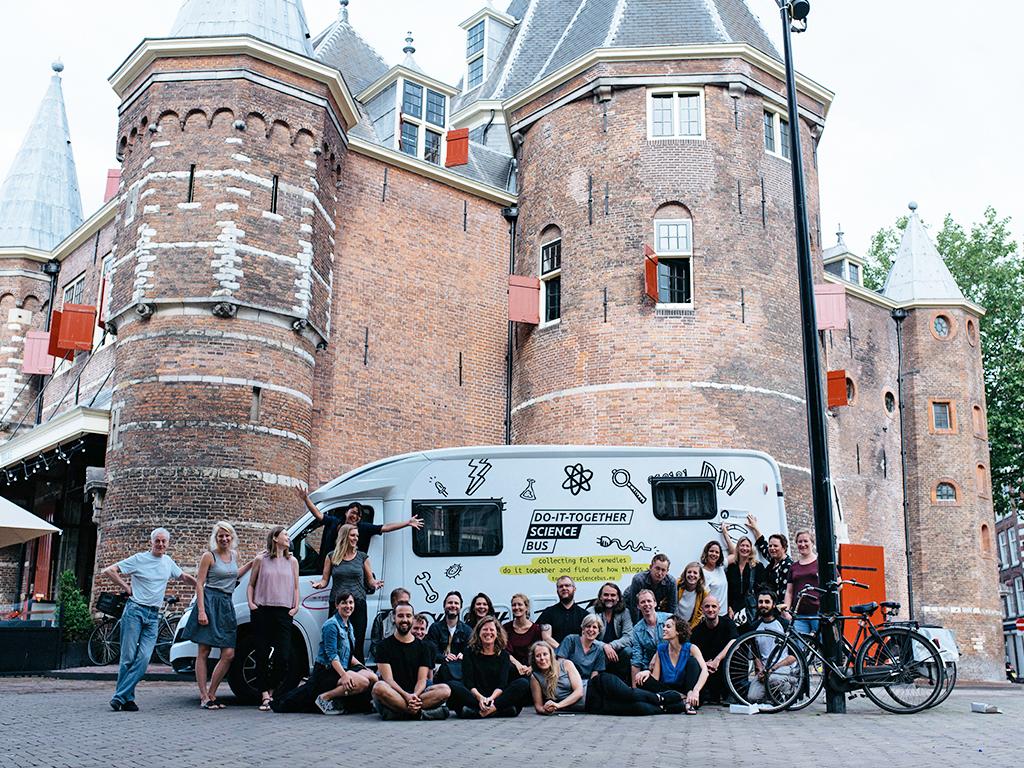 Three years of 'Doing It Together Science'
The Doing It Together Science (DITOs) project started with the aim of involving the European public in science and technology. Involving citizens in research and innovation programs is crucial in shaping our future. By combining expertise and resources we can come to innovative solutions grounded in society. Via this project we encouraged a dialogue between citizens, scientist and policy makers. At Waag, citizens and politicians were directly involved in science through open evenings, vlog series, many workshops and via a European tour with a Science Bus.
Waag's Open Wetlab
The Doing It Together Science activities mainly took place around Waag's Open Wetlab, a place for bio art, bio design and Do It Together Biology. CRISPR-cas workshops and open evenings for the Dutch DIY Bio community were organised and yearly new biohackers graduated from the BioHack Academy. The Open Wetlab was also the setting for 'Het Praktikum': a series of theme nights. The last biotech taboos were unraveled and our own morals explored. Hands-on experiments were carried out in the lab after which the future direction of these technologies was discussed.
#OPENBIOTECH vlog serie
As part of DITOs Pieter van Boheemen, at the time biohacker at Waag, reported on the European do-it-yourself biotech scene. In the #OPENBIOTECH vlog series Pieter showed the biotechnology is all around us, form the clothes we wear to the food we eat. During open evenings in the Open Wetlab these technologies were investigated and critcially explored together with citizens, politicians and scientists. With this we wanted to democratize and demystify this closed industry and #OPENBIOTECH for everyone. The results of this exploration of the Do It Yourself Bio community were presented in a policy brief (pdf) addressed to European policymakers with advice on how to support this community in the future.
Do It Together Science Bus
The most important part of DITOs realised by Waag was the Do It Together Science Bus, which drove around Europe in 2017. The Science Bus traveled through Europe in search of folk remedies and life hacks. These are solutions, tricks of recipes anyone can use to build, fix or investigate things. This adventure started with the recruitment of 8 'science bus captains' to drive the bus through the whole of Europe. These duos eventually made 17 stops at community centers, small towns, festivals and museums to organise workshsops on the spot. The entire trip was documented on social media. The Science Bus set out to ask questions, encourage critical thinking and investigate the world around us.
The workshop instructions for 9 different workshops in which you build simple scientific instruments and execute experiments, from making your own yoghurt and soap to building DIY phone charger, are publicly available in 7 languages: Dutch, English, French, German, Italian, Slovenian or Spanish here.
Citizen Science
With the Smart Citizens Lab, Waag will continue to develop tools and applications to map the world around us. Within the project Hollandse Luchten citizens are measuring air quality in their environment with low-tech sensors and the first Amsterdecks measuring platform, which provides users with information about water quality, has launched this summer.
This project has received funding from the European Union's Horizon 2020 research and innovation programme under grant agreement no. 709443.