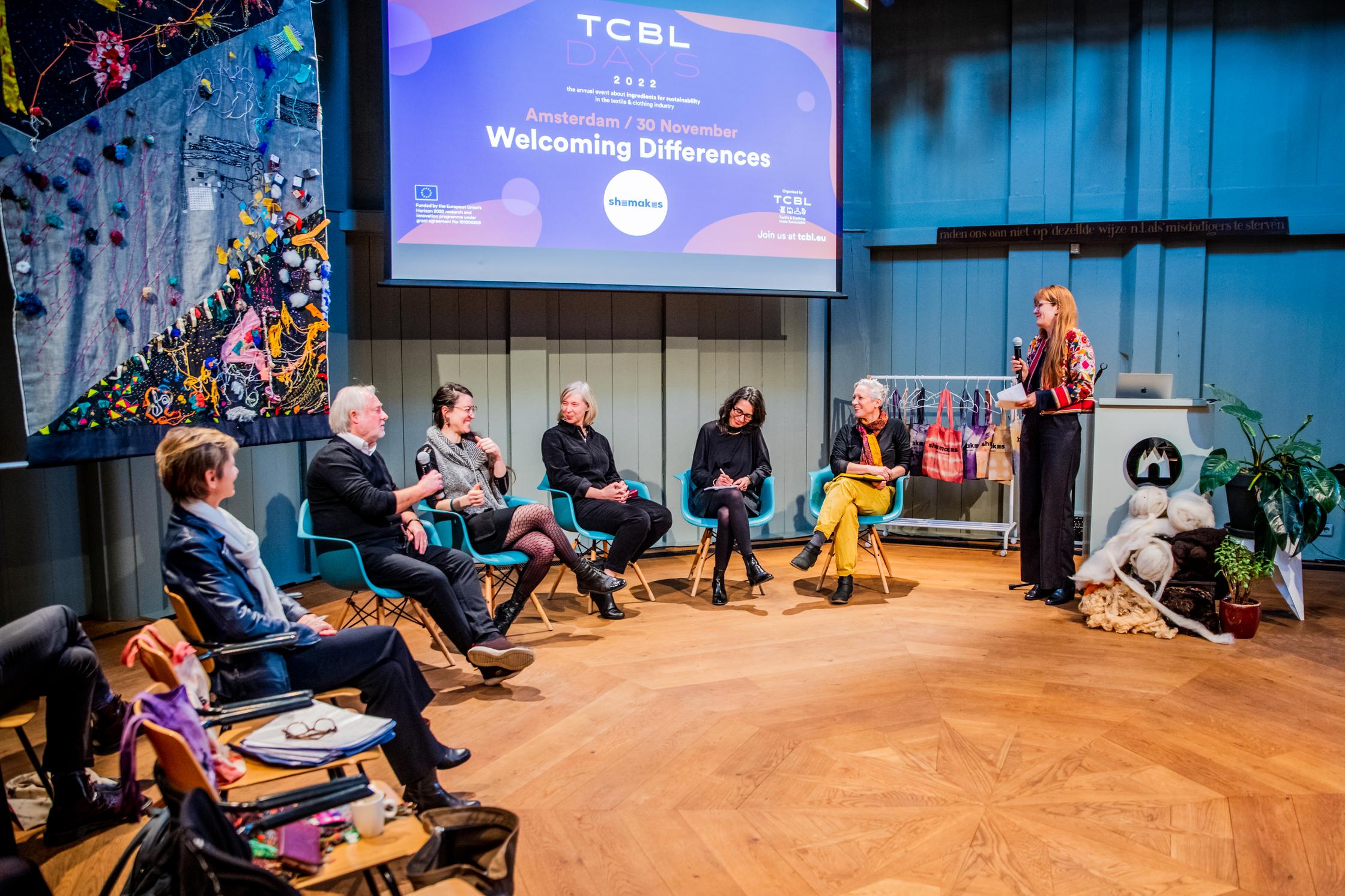 Shemakes: Enabling Textile Labs and Women Innovators
The shemakes project operated at the intersection of two problems in the textile and clothing (T&C) industry: the gender equality gap and the pressing need for innovation to work towards a sustainable industry. In this industry most of the workforce is represented by women, but only about 14 percent of major brands have a female executive in charge.
Women still get paid less for equal work, fewer are present in start-ups, female-led businesses receive less money from investors, there's a lack of role models and stereotypes are the norm. But we do need to acknowledge the innovative capacities of women that are needed and enable them to push and lead innovation in order to meet both the EU's sustainability and gender equality goals. 
We should start thinking in terms of replicability, spreadability and locality instead of global scalability.
In shemakes (2021 - 2023), a consortium of ten partners in seven countries created a value-based opportunity ecosystem for female innovators working in textiles. In this ecosystem, they had access to provided skills, knowledge and network, while changing the way we work together. Waag's TextileLab Amsterdam had the task to (a.o.) develop a model and tools for labs to become enabling environments in which girls and women can thrive. Here are some general findings that will be taken forward. 
Get rid of the bias 
There is still a strong bias that girls are bad at math or technical subjects, people can even still be condescending when it comes to textiles and woman-hood. But girls do perform very well at science, technology, engineering, and mathematics (STEM) related subjects at a young age until the stereotyping kicks-in and influences their future choices. And throughout history, textiles and innovation have always gone hand in hand with women playing pivotal roles.
In Waag's TextileLab Amsterdam, we meet and work in the fields of innovation and textiles with many women with backgrounds in physics, chemistry or other STEAM related studies. We experience it also in the yearly Fabricademy course: women kick-ass working on assignments that span from engineering, to bio-technology, programming and working with machines and complex software. It is not a lack of capability and skills. But to make sure there are more visible role models and showcase stories that invite women to step into this domain and into leading positions.
Create enabling environments
Throughout the project women have shared experiences in which they felt that they had to adapt to an environment that did not suit them. They lowered their voices to sound more masculine, changed their behavior or way of dressing to not be approached as a 'girl'. 
Do people need to learn how to fit a dominant system or environment, or should an environment change in order to welcome different people and ways of working? Cecilia Raspanti (TextileLab Amsterdam) stressed that 'there should be a multiplicity of approaches that allow for different people to fit in.'
The difficulty with enabling women innovators, is that the creation of new stereotypes are lurking.
Based on conversations held with a variety of individuals about their experiences and their needs in the workplace, a gender vision was developed by shemakes partner Tavistock. This gender vision with five values formed the base of the project: equal; collaborative; welcoming differences; empowering; inspiring. All the involved labs put these values into practice through the way they worked and through the activities they executed with their local communities.
At Fab Lab Léon in Spain, they empowered girls by letting them teach other girls. At REDU in Romania, they stimulated gender equality by spreading a questionnaire and organising public debates touching upon taboos around the topic. And in our own TextileLab we (as always) stimulated collaboration instead of competition by putting some of our community members on a stage during several events.
Furthermore, we worked out together how to explore gender equality and sustainability. Starting with diversity and examining the needs, moving towards inclusion so enabling environments can be shaped together, and will result into fostering a sense of belonging which makes women stay and thrive in the workplace.
Be mindful of stereotyping
The difficulty with enabling women innovators, is that the creation of new stereotypes are lurking. Often, traits that are considered to be feminine, were mentioned in the project, like (lack of) confidence, sensitivity and care. Dr. Kerstin Junge (Tavistock) explained during the final shemakes conference that 'if we are saying women don't have confidence, which is a very common discourse, we are making it an inherent trait of a woman to not be confident, but in what context?'
'This is why we need to have knowledge of the structures, to understand when someone's confidence is measured by a if you want to use the word "patriarchal standard"'. Empowering women with a network like shemakes, is an interesting and valuable seed bed full of experimentation for modeling a different value system.
Might the idea that we are equal hold us back from embracing differences? According to dr. Mariangela Lavanga (Associate Professor, Erasmus University Rotterdam), there is often the idea that emancipation in the Netherlands is completed: everybody is equal and has the same opportunities. 'Thinking like this, stops us from really valuing differences and questioning if we are really perceived as equal. Do we truly have equal chances to get the same jobs and salaries, despite our gender?'
Also, during the event Women in Fashion: paving the way for female entrepreneurs, stereotypes and a false idea of equality were mentioned by some of the leading women in the panel. Let's acknowledge that we are different and strive for being valued equally. 
Do distributed research together
The current challenges in the textile and clothing industry are complex. Although it is a global industry and local issues show similarities, possible solutions need to fit the different local contexts and a variety of perspectives and expertise is needed. A good example is the shemakes wool distributed research that was conducted in May 2022. Knowledge was shared globally, while connecting locally to our own lab communities and realities. This way of doing research together was based on a model developed earlier by Waag's TextileLab as part of the TCBL project for its BioShades research on bacterial dyes.
Wool is a material that has been around in the European textiles industry for centuries: it deeply feeds the textiles industry, from heritage knowledge to innovative practices. Wool is by nature both locally bound due to the abundance of sheep and a variety of breeds, and globally exchanged (in terms of knowledge and processing of the material).
By bringing experts together, we could step by step dissect the problems and opportunities around wool across Europe.
Being a natural, abundant and  biodegradable, historical fiber, wool is now being faced with a number of challenges at a European level and therefore became the perfect medium to develop three complementary research projects within shemakes: 1) Territorial Wool ecosystems, 2) Local dyes for sustainable and productive territories and 3) Little wool factories. Each lab put the emphasis on different parts of the research and organised a series of three events with their local network community. 
In the first half of each event, all labs and participants were connected online to share research questions and findings, and to contextualise the research approach. The second part, we executed workshops in our own labs. TextileLab Amsterdam looked at the role of women in innovation and wool in the past and the future, with guest speakers Sanne Muiser and Mariana Anacleto.
We dyed wool under the guidance of Cecilia Raspanti and made tools for wool processing with Beatriz Sandini and Mariana Anacleto. By offering a research structure model, and by bringing all these experts together, we could step by step dissect the problems and opportunities around wool across Europe and share our research efforts to work on local solutions. 
Create a ripple effect 
To summarise: the current times ask for valuing differences and innovators of all kinds. We need to continue working on flexible, values-based opportunity ecosystems and create enabling environments in which different women can bring their talents, visions and leadership skills forward. Irrespective of gender.
Supporting structures in which we are complementary to each other, working on pressing challenges that are complex, intertwined and interdisciplinary. But we might also reconsider our dominant ideas about success, impact and scalability that are often untenable drivers for innovation in textiles.
We want to create long term impact, a ripple effect that is rooted in its local contexts and spread and carried by people.
We should start thinking (again) in terms of replicability, spreadability and locality instead of (global) scalability. And maybe we can ask ourselves not if something is 'just' impactful, but if something is meaningful like the seeds that are planted within the project. We want to create long term impact and meaning by a ripple effect reaching further and further, rooted in its local contexts and spread and carried by people! Like we did and will continue doing, in shemakes. 
NOTE: In this article we refer to women since women were the focus of the project, but we do aim for an industry in which all gender identities can thrive and contribute, and experience that they belong. This text is written from a mainly Dutch perspective and experience, and might differ from perspectives in other partner-countries.